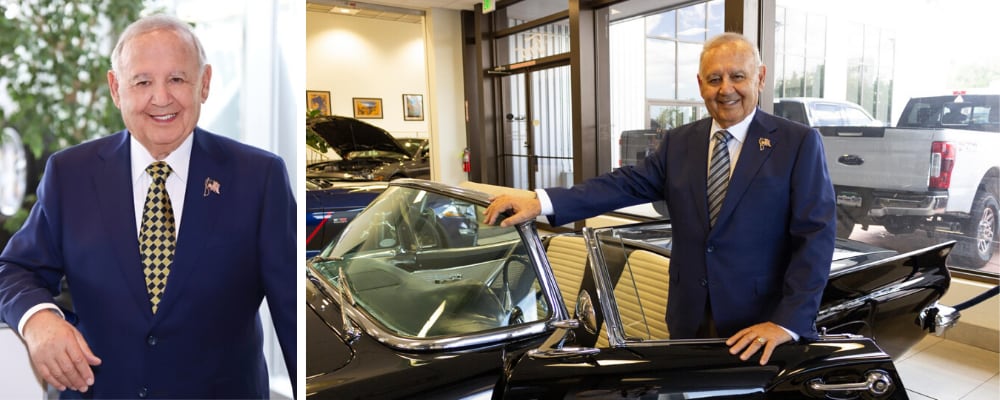 Mr. Cimino's story begins in 1936. Born and raised in Trinidad, Colorado, he spent his high school years at Holy Trinity Parochial School. After graduating in 1954, Mr. Cimino joined the Marine Corps. After the Marine Corps, Mr. Cimino attended Trinidad State Jr College in Colorado, then went on to attend the University of Denver, graduating Deans List in 1960 with a Bachelor's Degree in Business Administration. Immediately after graduating, he married Emily Roitz in October, at Holy Trinity Church in Trinidad.
Emily Cimino (Roitz), also a Trinidad native, was born in 1938, attending Holy Trinity Catholic School, graduating valedictorian in 1956. Mrs. Cimino received her Associates Degree from Trinidad State Junior College with continuing education at Denver University and graduated from Northern Colorado University with a degree in Business Education and English Literature. Surrounded by their four children; Gina, Vincent, Michael, and Laurie; and eight grandchildren, Jay and Emily Cimino celebrated their 56th wedding anniversary in 2015. Sadly Emily passed away in November of 2016. Her strength, wisdom, and legacy are greatly missed by all who knew and loved her. Emily Cimino 1938 - 2016 
Jay Cimino joined Phil Long Ford in 1975 as the General Manager, ultimately leading to his current position as President and CEO of the Phil Long Family of Dealerships. The strength of the Phil Long Family of Dealerships in such a competitive industry is the result of its ongoing commitment of Jay's overall vision Commitment to the Community, Quality Customer Service, and Exceptional Value. With great leadership, Jay Cimino created a legacy of unparalleled community service, community enrichment, and superior customer service and sales. 
Jay's philanthropic nature has fostered hundreds upon hundreds of community partnerships, sponsorships, and campaigns; to include the first community partnership Mr. Long developed in 1947 with the Pikes Peak United Way. This partnership has helped generate millions of dollars in donations to help citizens in need throughout Colorado. In addition to the United Way, Jay was instrumental in the campaign to renovate and build a new addition on to the Marian House. This campaign helped the Marian House transition from just a soup kitchen to a self-sufficiency center. Tying into the knowledge that so many in our community continue to suffer from hunger, Jay leads the way for an annual company-wide food drive for Care and Share Food Bank in Colorado Springs, and the Food Bank of the Rockies in Denver. He also was the inspiration to the 15 Fantasy Playgrounds built through-out Colorado Springs and Denver! 
His personal experiences with friends and family who have suffered from a variety of different cancers led him to support causes and organizations that fund research for cancer eradication such as the Susan G. Komen Race for the Cure, the Lung Cancer Center, and the American Cancer Society to name a few. But most importantly it led to a greater sense of need for under-served populations and the development of the Mt. Carmel Health, Wellness, and Community Center in Trinidad, Colorado. 
Jay's love for his hometown inspired growth and change in the city of Trinidad. In 2010, Jay opened Phil Long Toyota of Trinidad and Phil Long Ford in neighboring Raton, NM. In addition to bringing new business into both communities, he established the Trinidad Community Foundation, created the Jay Cimino Champion Scholarship Fund for Holy Trinity Academy students, and granted the land and building to establish a new visitor center and retail shopping space in Trinidad. The citizens thanked Jay for his numerous contributions by building a community park and playground in his honor. He is also instrumental in the redevelopment of Trinidad, also known as the La Puerta de Colorado project. This La Puerta project will breathe new life into Trinidad, and all of southern Colorado. 
All of these projects are labors of love, but one of his greatest accomplishments is the Mt. Carmel Health, Wellness and Community Center.
Mt. Carmel HWC center
features a fully staffed clinic with MD's, Nurses, PA's, MA's, and Therapists and provides non-emergency high quality, patient centered integrated healthcare seven days a week to Las Animas County and rural southern Colorado. The Mt. Carmel HWC center also serves by providing a community garden, theater and gathering space, and includes a fully staffed bistro and bakery! 
Always pushing the needle to be better and do more, Jay implemented his idea help our military community and created the Mt. Carmel Center of Excellence of Colorado (COE) provides wellness programs, transitional services, and resources for veterans who have served and sacrificed so much for our country. The COE is designed to support the large military presence that is central to the Pikes Peak Region and the whole state of Colorado, and features physical space to better synchronize like-minded organizations and their efforts, serve as a non-profit incubator geared towards the unique needs of transitioning veterans and their families, and to provide world class wellness programs. Extending that vision, in 2015 he entered into partnership with the Pikes Peak Therapeutic Riding Center to connect soldiers suffering from invisible injuries with the extraordinary equestrian therapy programs offered. 
https://veteranscenter.org/
Jay has always fully embraced and supports a multitude of needs for the troops and their families. For more than twenty years the Phil Long Operation Home Support program has provided emergency assistance related to transportation to spouses of deployed soldiers. In addition to Operation Home Support, Jay co-founded the non-profit The Home Front Cares which provides immediate emergency assistance with home, vehicle, and basic living needs for vets and soldiers. Another program Jay established is the Returning Heroes program which sends soldiers returning from deployment and their spouses on a much needed re-connection retreat. Cimino also supports programs that benefit the Warrior Transition Battalion and the Fort Carson Resiliency Campus to include providing vehicles to aidin PTSD and TBI therapy programs, and other adventure-based therapy programs. 
His focus to create an environment that encourages a healthy mind, body and spirit extended beyond Mt. Carmel. His progressive thought process led him to develop an on-site Health & Wellness program for the 900 + employees working for the Phil Long family of Dealerships. He built three gym facilities within the dealerships, hired a health and wellness director that provides personal training, weight loss & management programs, nutrition & diet programs, tobacco cessation classes, yoga classes twice per week, and more. During the summer of 2013, Jay opened the first on-site health clinic for employees and family members. The clinic is staffed with a PA and RN, and offers non-emergency treatment as well as managed care, and pharmaceuticals. The on-site clinic is located in the
Phil Long Collision Center
main building at 4045 Sinton Road in Colorado Springs. 
Over the years, Jay Cimino has received well-deserved recognition including the El Pomar Foundation's prestigious Gov. John A. Love Award; Ford Motor Company's Salute to Dealers Award; the Citizen Meritorious Service Award; the Columbine Individual Citation Award; the John Venezia Memorial Award; the Council for College Resource Development Award; and the Partners in Philanthropy Outstanding Individual Donor Award. In 2009, Jay received what he says is his highest achievement yet, presented by the Jesuits of Regis University, the CIVIS PRINCEPS, followed the next year with being presented the highest honor from Ft. Carson Army Post given to a civilian, the Good Neighbor Award. Trinidad State Junior College honored Jay in 2012 as a Hall of Fame Recipient, and he received the distinction of Colorado Auto Dealer of the Year. In 2013 the American Red Cross honored Jay as the Humanitarian of the Year, and in 2015 Mr. Cimino was given the Joe Henjum Community Hero Award by The Home Front Cares.


Make an Inquiry