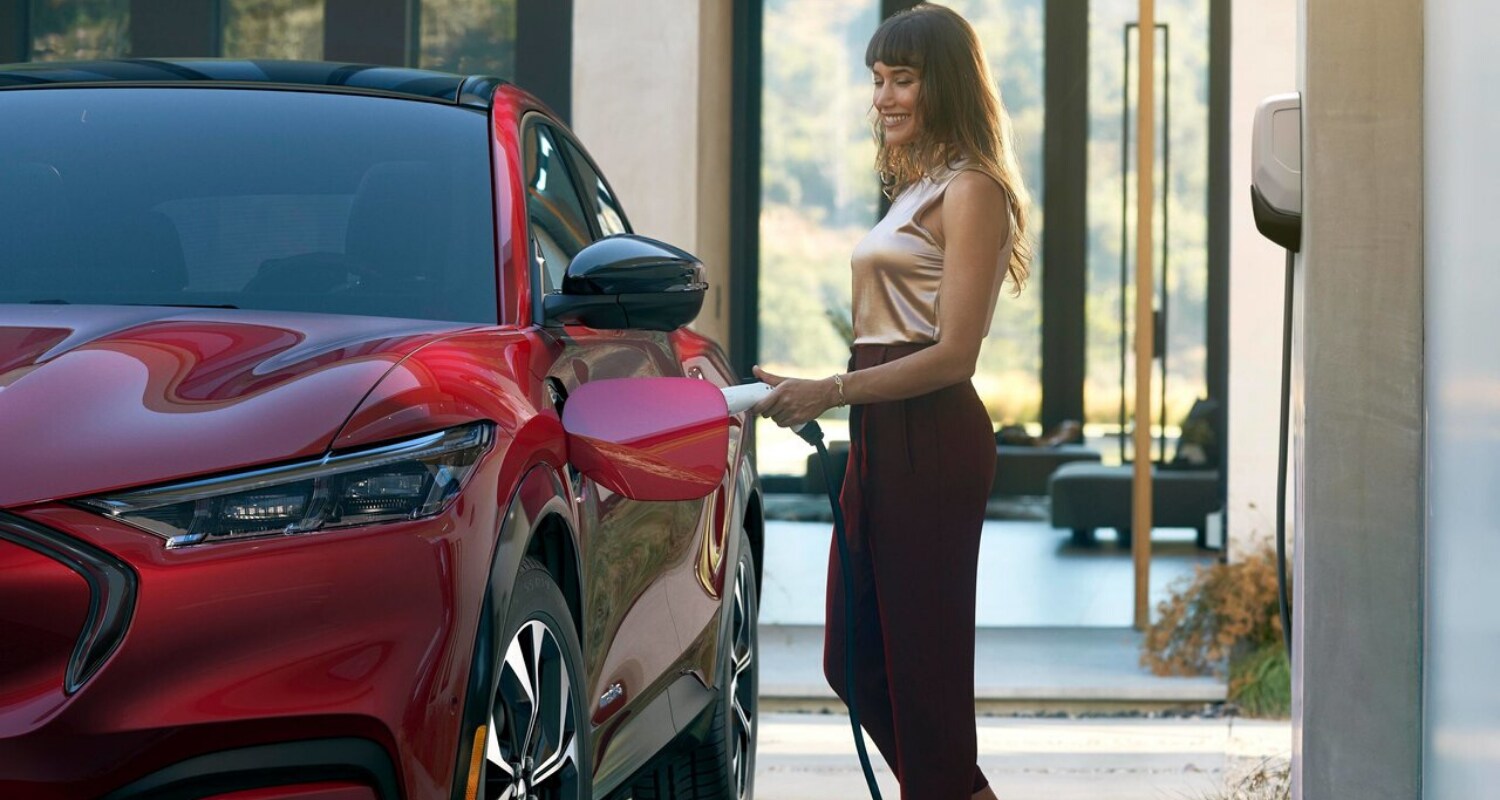 *All-electric Mustang Mach-E seen charging at home.
The short answer is no. Electric cars do not need motor oil as they don't have the conventional internal combustion engine with all the moving parts. Plug-in hybrids (and hybrids) still require traditional maintenance as they still employ an ICE in combination with an electric motor to increase efficiency. However, with EVs, there are still many maintenance issues that must be addressed. While electric cars don't need oil changes, we can't overlook the other tasks owners must consider. We will look at the oil and lubricants that are need for an electric motor in closer detail and determine what steps you should take to provide the utmost care for your EV.

View All Electric Inventory


Do Electric Cars Require Oil? Fluids? Lubricants?
Do electric cars need oil changes? No. You will not need to perform a traditional oil change on any electric vehicle in Colorado. Traditional vehicles require oil for lubrication of the moving motor parts. In a combustion engine, there are valves, pistons, and other moving components that must remain lubricated. This isn't the case with an EV. However, other forms of fluids, oils, and lubricants are very important to any EV owner. For example, there is a special oil that is used for cooling which is essential to any EV functionality. Yes, electric cars require less maintenance, but that doesn't mean you can neglect them. There is no such thing as a "zero maintenance" car. While you won't ever need an EV oil change in Colorado, you will still need to have the fluids and lubricant checked in the gear reducer (EV transmission) periodically.


Have a Question About Electric Car Maintenance? Ask Us Below!
Do Electric Motors Need a Regular Oil Change? Or Lubrication Change?
Do electric cars have engines? Yes, they have motors but not in the same sense that traditional ICE vehicles do. Even though the lubricants and electric powertrain are designed to last as long as the battery, you still need to consider the health of the EV gearbox and electric motor, which both require lubrication. If systems are malfunctioning, there could be a faulty part or an improper battery drain. However, any EV maintenance tasks don't need to be done often, which does allow for less maintenance and operational costs. Since electric vehicles are so new and the technology is still emerging, there is no set period of time to have these maintenance tasks performed. We recommend that you get an "EV check-up" at least once a year to make sure everything is working properly and systems are operating correctly. If you drive more than 14,000 miles a year with your EV, you might want to schedule a bi-annual EV check-up. This way, you can be sure that nothing is improperly draining your EV battery life which will help extend the life of your EV battery as long as possible.


For EVs, How Long Does the Sealed Oil/Lubrication Last?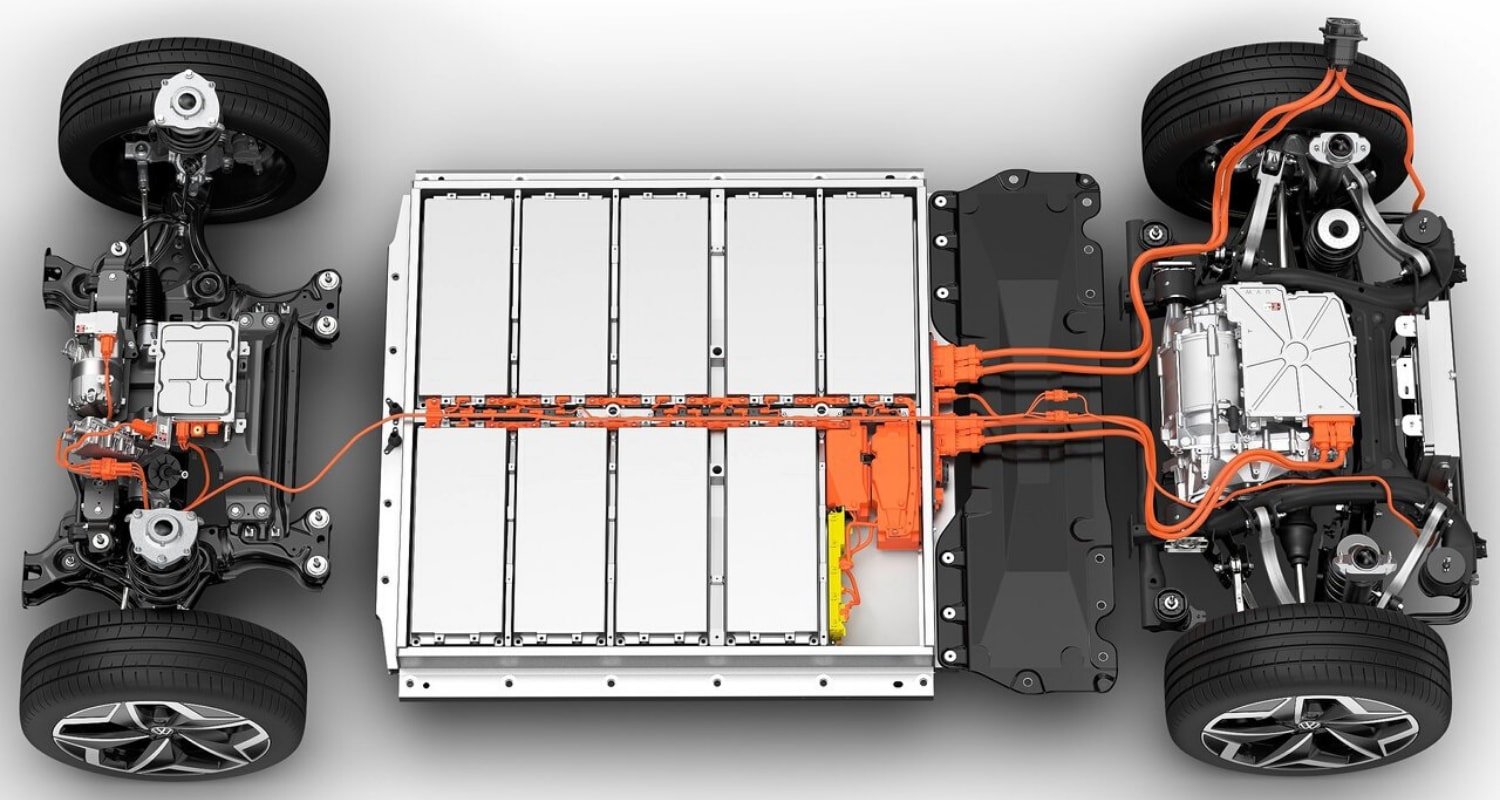 *Electric powertrain seen inside the Volkswagen ID.3.
While the electric motors don't need conventional oil, there are other maintenance tasks to consider regularly. Not that every EV model and manufacturer are not the same. EV manufacturers may employ different technologies and operating systems in their own vehicles as well as what's used in competing vehicles (think Tesla Model 3 vs. Nissan Leaf), which may affect the maintenance. Here is a guideline, but you want to reference your owner's manual for a more accurate timeline.
7,500 miles: Check fluids and inspect the systems. Rotate tires.
15,000 miles: Replace wiper blades.
36,000 miles: Replace cabin air filter.
75,000 miles: Replace hood gas struts.
Every 5 years: Fill vehicle fluids and replace brake fluid.
Every 7 years: Change air conditioning desiccant.
Be wary of your EV battery warranty as well. If you are experiencing any problems at all, make sure to have them handled before the warranty expires as currently, EV batteries are very expensive. Several companies offer 8-10 years limited-mile warranties but that doesn't mean you won't have any issues. Don't get stuck with a broken EV battery outside of your battery warranty as it might cost you more to fix/replace the battery than you originally paid for the car brand new.


Other Traditional Car Maintenances That EVs Don't Require
As we have discussed, electric vehicles require far less maintenance than traditional vehicles because they don't contain an internal combustion engine. Aside from not having to change the oil in an electric vehicle, here are some other maintenance tasks that your EV won't need:
Replacing the spark plugs
Changing out fuel filters
Swapping the drive belts
Replacing the water pump
Carburetor flooding/issues
Blown head gaskets
Replacing belts/hoses
Radiator problems
Ring and cylinder wear
Bearings/crankshafts/camshafts
Exhaust system/pipes
All of these factors add to your cost savings as a whole, not to mention the time you will save when looking at EV ownership vs. traditional ICEs.


About Phil Long Dealerships
Phil Long Dealerships have been serving local Colorado and New Mexico communities for decades. As a family-run business, born out of Colorado, we understand the value of customer service and satisfaction. This is why we always put our clients first. You don't have to haggle over price or question our integrity. We are here to benefit our community, assist with all of your car needs, and answer all the questions you have about all vehicle types. We were here for you before the rise of the EVs, helping you with all your traditional car sales and service, and we will be here for you after. Not matter if you have an EV or a traditional car, we are always ready to help guide Coloradans down the right path to ensure vehicle longevity.
View All Electric Inventory
View Hybrid Inventory