At Phil Long Dealerships, we strive to provide quality used cars to our customers. That's why we provide Colorado Springs used car inspections on the vehicles coming across our lots. When it comes to used car inspections in Colorado Springs, you can count on us to put your needs at the top of our list. We even have our own certified pre-owned program called Phil Long CertiRide. 
In this article, we will show you a car inspection checklist, the difference between 150-point and 70-point inspections performed on certified used cars, the most important things to inspect on used cars, and how certified used cars are inspected at a higher level compared to normal used cars.


Used Car Inspection Checklist
The 150+ Point Inspection Includes:
Engine - compartment, condition, oil level, air filter, battery check, and fuel system
Instrument & Interior Compartment - ABS, instrument panel, climate control, horn, windows and sunroof
Pre-Test Drive - lights, wheels, tires and shock absorbers
Test Drive - transmission shifting, engine performance, and brake operation
Service Bay Inspection - transmission, brakes, steering system and suspension
Appearance - hood, grille, liftgate, bumper, and fenders
Final Inspection - cleanliness Ask the dealer for a complete list to see everything that is checked and thoroughly inspected.
The 70 Point Inspection Includes:
Many of the same components addressed in the 150-Point inspection are covered in the 70-Point inspections to a lesser degree, depending on what parts are examined. Less points means less areas are inspected and less parts are checked for functionality. You would need to ask the dealer for a complete list of what has been inspected.


The Difference Between 70-pt & 150-pt Inspections
A complete inspection addresses every part of the vehicle, whether it is the interior or exterior. With a 150-Point inspection, there is often multiple aspects that deal with each component. For example, the engine alone might have 30 different checks. In a 70-Point Inspection, the engine check is considered one part, even though multiple evaluations occur.
Which Used Car Inspection is Best?
Obviously, the more areas that are inspected and checked for functionality means a better quality car. 150-point inspections are better than 70-point because of the number of areas, parts and components that are inspected. However, technically, there isn't a used car inspection that is solely better than another; even the lowest point inspections check the car for potentially hazardous issues or concerns for safety which is the main point of any car inspection. Furthermore, just because someone promises a higher point number with their used car inspection doesn't always make it the best inspection; the individual (s) performing the inspection matters as well. 70-point used car inspections in Colorado Springs could be considered better than the larger ones if the inspections are provided by certified automotive technicians. It also depends on what the mechanic included in this inspection. To be clear on what's inspected, ask the service department for a list of what was checked.
Used Car Inspection Cost
Rates vary for Colorado Springs used car inspections. Just remember that a lower price doesn't always mean the best option. Sometimes, this low price signifies a lower standard as well. To evaluate the quality of a used car inspection in Colorado Springs, you want to find out everything that is checked before you commit.
Should I Go to a Mechanic for a Used Car Inspection?
It's always best to go to a trusted mechanic for your Colorado Springs used car inspections. Not only do qualified technicians have updated equipment, but they also have the latest computer scanning technology to provide you with a comprehensive examination.


The Most Important Things to Inspect on Used Cars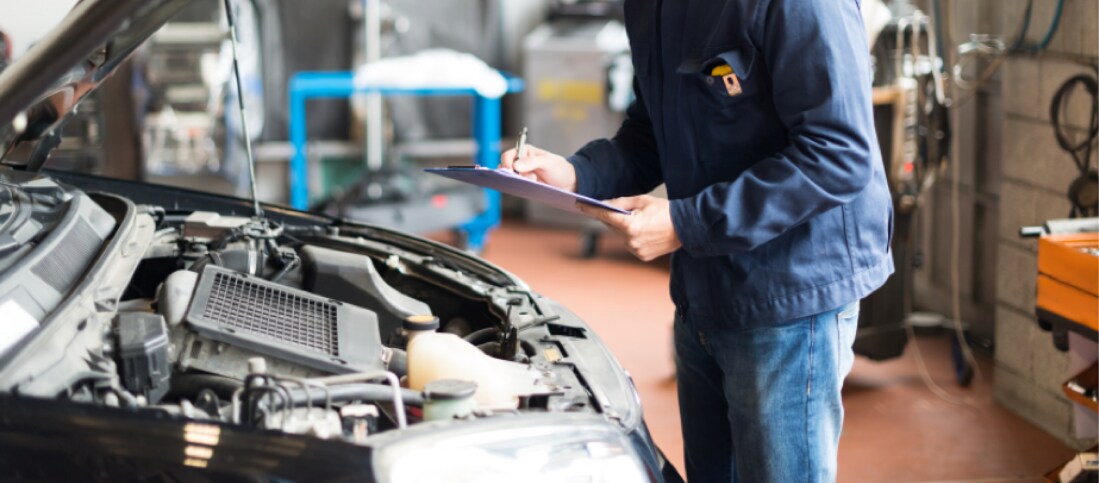 If you are looking at buying a used car, there are some things you should always look for. You want to start by checking the fluid levels, observing any unusual smells and listening for abnormal sounds. You also want to examine the paint, carpet and car seats for signs of wear or damage.
Engine
The engine must first be checked for rust or corrosion. Then, the belts and hoses must be examined for signs of wear. From there, the fluids are checked to ensure that that they have been changed and are in good condition.
Transmission
Mechanics must check the transmission for signs of rust or damage. The fluid must also be examined, but the majority of transmission testing happens by observing the shifting ability on the road.
Brakes
Brakes must be inspected for clean surfaces, remaining pad life as well as the parking brake operation. Another aspect that often gets overlooked is checking the brake fluid level.
Tires
Cars must have tires in good condition to keep the occupants safe, especially in winter weather. Tires must be checked for the appropriate amount of tread and to ensure that there isn't any abnormal wear.
Warning Lights
Any warning light that's illuminated can lead to a minor or major problem, depending on what is triggering it. Some of these issues become quite costly. On a regular vehicle, an airbag or seat belt sensor can lead to a $1,000 repair bill. Knowing these faults upfront helps you determine whether you should purchase a vehicle or not.
Check the Vehicle History Report Before Buying Any Used Car
A vehicle history report, such as the CarFax report, lets you know what the car has been through before your purchase. It verifies the odometer and ensures that there haven't been any major structural issues or flood damage. Reputable dealers provide this for consumers with the Colorado Springs used car inspections. If you are left to handle this yourself, you might ask yourself what they are trying to hide.


Are Certified Used Cars Inspected Differently than Other Used Cars?
Certified used cars come with additional guarantees. They are often lower mileage vehicles and usually newer models. Whichever type of car you plan to purchase, it's necessary that you have your used car inspections in Colorado Springs done by a reputable dealership.
How to Find a Reputable Dealer for Used Car Inspections
When you evaluate the dealer to use for your Colorado Springs used car inspections, you want to pay close attention to what is being inspected. Ask for a complete list of what will be looked at and make sure you check reviews from previous customers. At Phil Long Dealerships, we are here to serve you. We want to make sure you get behind the wheel of a quality used car.


Used Cars for Sale at Phil Long
Browse our inventory of certified pre-owned vehicles and used cars by clicking the button below.
View Certified Pre-Owned Inventory
View Used Car Inventory
Make an Inquiry